Chicken
Turkey
Beef
Lamb
Pork

Jams
Soaps
Turkey Thawing
Around the Farm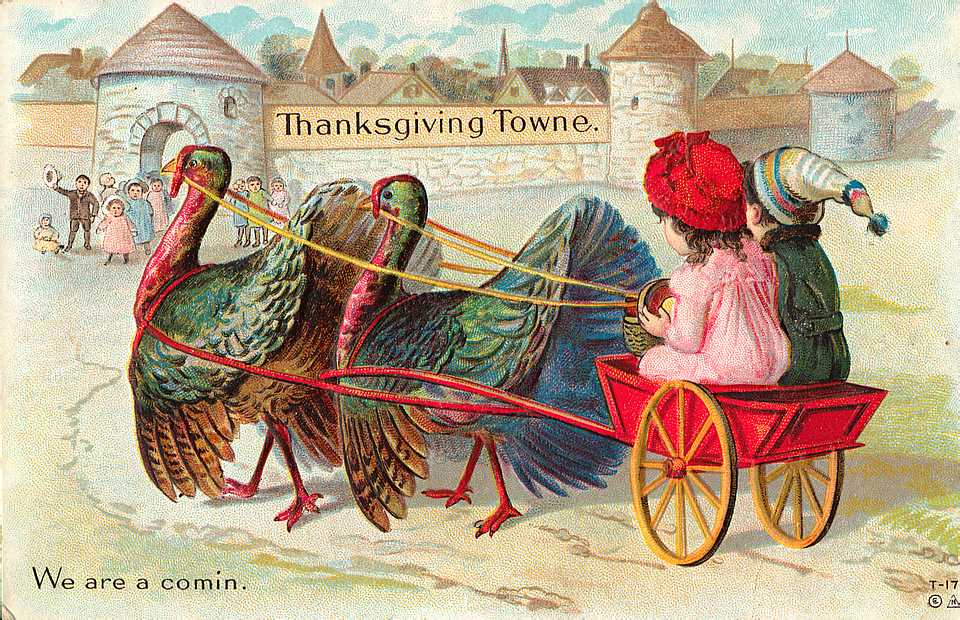 While we just love these vintage Thanksgiving cards
we can never find a vintage drawing with a white turkey!
Please know these little post-card pictures are just for fun.
It's never too early to plan for next year!
Thanksgiving is
Thursday, November 22, 2018

We're estimating the processed TURKEYS will weigh between 14# to 22#
Please indicate size and we will do our best to match you up with the right bird on pickup day.
We believe you will be happily matched up with your turkey.
Please be willing to take a turkey that is within 2# of your requested weight.
We specialize in plump, hearty, and happy birds.
All our turkeys are non-GMO, pasture raised, and hormone/antibiotic-free.
Our healthy, pasture raised turkeys finish out anywhere between 14# to 22#.
November 24, 2017:
Why order your 2018 Thanksgiving turkey now?
Well, let me tell you. We get a LOT of birds in the 18#-19# range. But what if you want our very smallest or largest bird? Say you ordered a 25# turkey in January and someone else ordered a 25# turkey just days before Thanksgiving and we only got one? Who should get it? The way we see it is the person who ordered first would get first dibs.
If you already have an idea what you would like for 2018's Thanksgiving turkey, go ahead and reserve your bird now. Especially if you need one at either end of the size spectrum, because honestly, we have to make a seniority list of who ordered first.

A few folks have already ordered their turkeys for 2018 and we have started a 2018 sign-up sheet.

Thanks so much for the honor of letting us raise your holiday turkey.
Pickup date
Store location/map
Price/Deposit
About
Thanksgiving
2018
Farm pickup

Pickup at
BECHARD FAMILY FARM
13700 Athens Road
Conway, MO
(map link)
FRESH, pasture-raised turkeys
always non-GMO

clean, oven-ready,
raised with LOVE

Thanksgiving
2018
Springfield
pickup

Near National & Republic

FRESH, pasture-raised turkeys
always non-GMO

clean, oven-ready,
raised with LOVE


You do not need a PayPal account to use this service.

If you do not wish to use PayPal,
please call us at (417) 589-4152
with your credit card number.

Questions? Call 417-589-4152 or visit our Contact Us page.
© 2000-2018, Bechard Family Farm