Why Pasture-Raised Meats?
Chicken
Turkey
Beef
Lamb
Pork

Jams
Soaps
Recipes & Tips
Turkey Thawing
Chicken FAQ's
Around the Farm
Where to buy our Jams
Where to buy our Soaps
Order Meats
Order Turkeys
Lamb Deposit
Order Soaps
Order Jams
About Us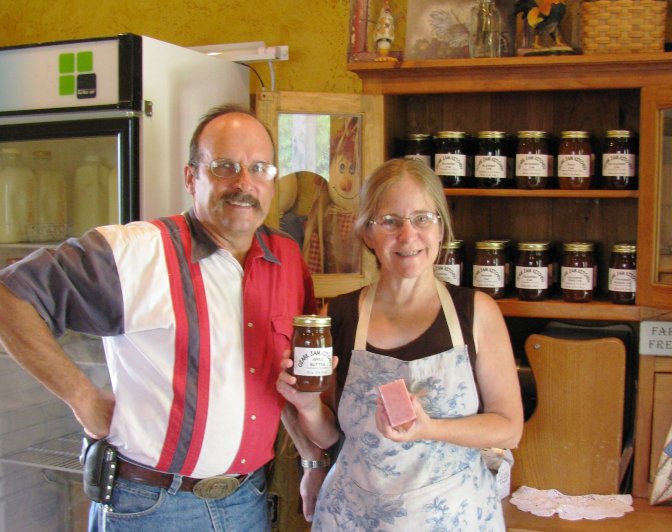 Hello! We are Armand & Teddi Bechard. We hope this helps you put a "face" to your farmers. :)
For those who want to know about "us", we have been married for 36 years, have 7 children, 3 kids-in-law, and 8 GRANDCHILDREN!!!
We are excited to begin our 18th season of raising quality healthy meats for families like yours! This year is off to a great start. Here we are in early January and we have already planned all the poultry for the entire year. We are thankful for your years of patronage that has made this kind of planning possible.
We have farming sustainably here in the Missouri Ozarks since the year 2000. We raise quality chicken, turkey, beef, lamb, and pork. As you browse through our selection of meats, you should know that none of our animals receive GMO grains. Not ever.
Our poultry is all raised on our chemical-free pasture in bottomless shelters that are that are moved to fresh grasses daily, giving the chickens and turkeys access to fresh grass and bugs. The design of our pens gives the chickens/turkeys lots of sunshine while still protecting them from predators and inclement weather. Using organic standards (while avoiding the unnecessary expense of organic certification), Bechard Farm chickens and turkey are never given antibiotics, artificial growth hormones, or genetically modified grains (GMO's). You have our word on that.
Everything we do is with quality in mind. We raise the finest grass-fed beef and lamb possible. We have been told dozens and dozens of times that our turkeys are the best someone has ever had. We are health conscious; we eat the same meats we sell and we feed our families and grandchildren these same meats. This is quality you can trust for generations.
Armand is a hard one to catch because he is always working so hard. He loves his farm and works it well. Teddi can most often be found inside making her famous soaps and lotions.
We hope this gives you a little glimpse of who we are. We look forward to meeting you!
Home About Us Meats Chicken Turkey Beef Lamb Pork Jams Soaps
Recipes & Tips Around the Farm Contact Us Links Order Meats Order Jams Order Soaps
© 2000-2017, Bechard Family Farm