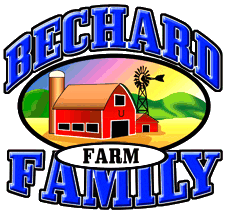 Since 2000
Why Pasture-Raised Meats?
Chicken
Turkey
Beef
Lamb
Pork
Recipes & Tips
Turkey Thawing
Chicken FAQ's
Around the Farm
Where to buy our Jams
Where to buy our Soaps
Order Meats
Order Turkeys
Lamb Deposit
Order Soaps
Order Jams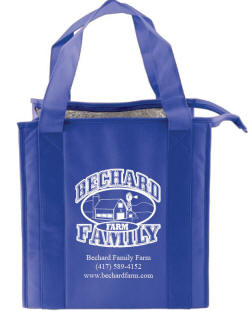 Perfect for farmers' market! Get your own Bechard Family Farm insulated tote for only $6.00
and get $1.00 off every time
you buy from us!*

*Must bring bag.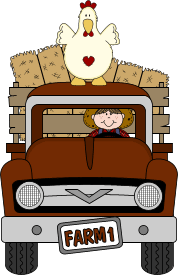 Bechard Family Farm has been raising clean meats for families like yours for 17 years now! That's right! We've been raising these delicious birds since the year 2000. Does your family have special dietary needs? Maybe you are wanting to try the Whole 30 diet or the GAPS diet. We can help! Our clean meats and our broth bags fit right in with both of those food systems.
Grazing on grass that is never chemically treated, these chickens are living the life. It's like the Chicken Ritz for them! They are moved to fresh grass every day getting grass and bugs while still being protected from predators by the chicken tractor style shelters we provide for them. You can be sure that we never, ever give our animals routine antibiotics, artificial growth hormones, or genetically modified grains (GMO's). And with Bechard Family Farm, you don't have to worry about your chicken being rinsed in a bleach bath either!
The chickens we raise for meat are the double breasted broiler called "Cornish Cross". They are raised out on our fresh pastures in bottomless pens until they are about 8 weeks old. We feed them a custom mix of non-GMO feed and organic mineral supplements to insure that you get the healthiest bird possible. They get lost of fresh country air, sunshine, and green grass.
The chickens and turkeys are sold on a pre-order basis. After our normal season (May-October), chickens are also sold here at the farm
'as available' throughout the year. We have chicken all year round, but only a few times a season will they be FRESH, not frozen.
Would you like your chicken cut up into parts? If you order before one of our processing dates, we will gladly cut up your chicken into 6 parts (plus back and giblets) for only $2.50 per bird. When ordering a cut-up chicken, you will get:
2 boneless/skinless chicken breasts

2 leg quarters (thigh/drumstick combination)

2 wings

giblets which consist of heart, liver, gizzard

the chicken back, neck, and skin from breasts all for broth making
If you are looking for a healthy alternative to factory farmed foods, look no further! Come meet YOUR FARMER and see how YOUR FOOD is raised!
Click HERE to order your chickens today!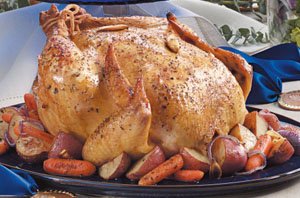 Fresh
Pick-up day at the Farm
from 2 PM to 6 PM
$4.45/lb

Fresh
Farmers' Market of the Ozarks
from 8 AM to 1 PM
$4.45/lb*
*pre-ordered price

FRESH WHOLE CHICKEN
The processed chickens will weigh between 4.0# to 6.0#

Order chicken breasts and leg quarters in the Chicken Notes. Please include date.

Friday, May 19, 2017 sold out
Saturday, May 20, 2017 sold out
Friday, June 23, 2017 sold out
Saturday, June 24, 2017 sold out
Friday, September 15, 2017 sold out
Saturday, September 16, 2017 sold out
Friday, September 29, 2017
Saturday, September 30, 2017
Friday, October 20, 2017
Saturday, October 21, 2017
CHICKEN PRICES
all prices subject to change
OPTIONS:

PRICES

:

Notes:

1) CHICKEN, whole

$4.45/lb pre-ordered

May thru late October

2) CHICKEN

, cut-up

add $2.50 per bird
we will cut your chicken cut into 6 parts
(boneless breasts, wings, & leg quarters, backs, giblets)
3) CHICKEN LIVER

$3.00/pkg

AS AVAILABLE - 1/2 pound packages
4) CHICKEN BREAST
$12.68/lb
1.2-1.75# (1 package will feed 5-6 of us)
5) LEG QUARTERS

$4.98/lb

2 per package ~1.5# per pkg.

6) CHICKEN WINGS

$4.48/lb

usually 6 wings per pack

7) CHICKEN BROTH BAG

$6.00 per bag

includes 2 chicken backs and 4 chicken feet

8) CHICKEN FEET

$2.95/lb

small bags of clean chicken feet
Please go to our Order Meats page to order your chickens today!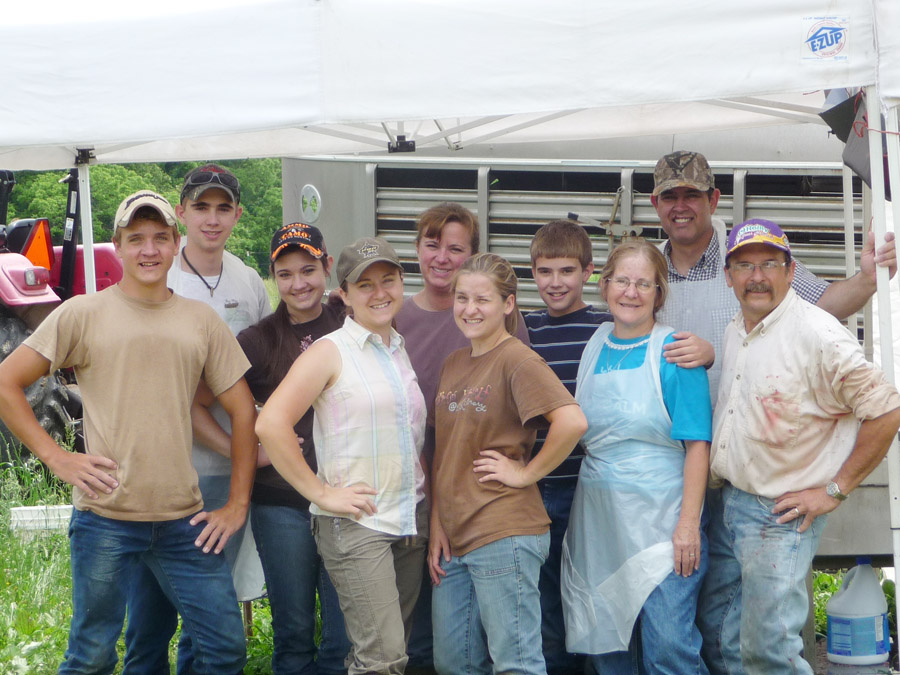 A picture of us with some good friends on a 2014 butcher day.
Bechards are in the front.

| | |
| --- | --- |
| | Our chickens are raised in bottomless pens which are moved daily to fresh grass. The pens protect the chickens from predators and inclement weather while still allowing the birds access to fresh grass and bugs. We only keep a few birds per pen and they get lots of fresh country air and sunshine. |

all our chickens are raised out on our chemical-free pastures and fed non-GMO feed

| | |
| --- | --- |
| | Here are some of our Cornish Cross chickens growing out on pasture. These birds are nearly done growing. The chicks are raised on our farm from hatch day until butcher day. |
Factory farmed chickens (even organic) are raised in confinement houses in which there
are thousands of birds per building. They don't get fresh air or fresh grass. They don't see the light of day. They barely have room to move around. These birds breathe fecal dust and ammonia fumes into their lungs. Is that the
kind of meat we want to feed our families?
---
Why do we keep our chickens in field pens?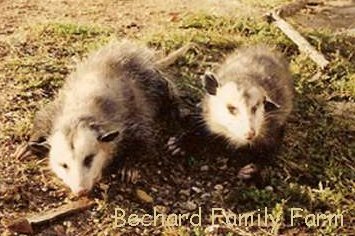 Do you wonder why we keep our chickens in field pens? Take a look at these opossums. Don't they look mean ?!?!? Well, they are!
As important as it is to keep our chickens healthy, it is every bit as important to keep them alive! These are one of the predators we need to protect our chickens from.
Before we had field pens, in only 2 nights, these possums killed 75 chickens!
Now for the humorous side of this story....after their 75 course meal, these possums crawled under house. Armand crawled under the house after them and shot them dead.
By the next morning when he pulled them out from under the house, rigormortis had set in. These dead possums were so stiff we could stand them up, making them look as if they were alive! We had fun taking this picture!
---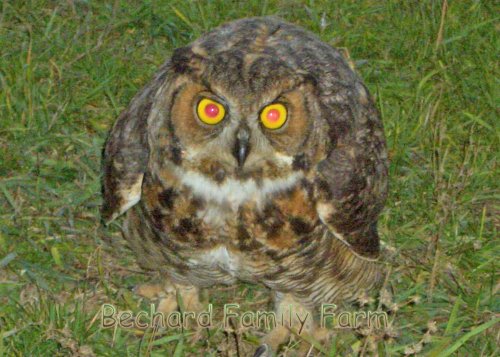 Air predators are a another type of predator that attack our chickens. Hawks and owls swoop down and grab up a chicken and fly away with it. Too many times we have found an owl or hawk on the road munching on one of our chickens.
This owl actually found his way into one of our field pens!
Thankfully, there were no chickens in the pen at the time.
The owl was set free.
As you can see, protecting the chickens is a full time job.
We want to care for them and keep them alive and still allow
them full access to fresh green pasture.
That is why we keep our chickens in field pens.
---
For a summary of our products, prices, & practices,
please feel free to print off our Newsletter!


Home About Us Meats Chicken Turkey Beef Lamb Pork Jams Soaps
Recipes & Tips Around the Farm Contact Us Links Order Meats Order Jams Order Soaps
© 2000-2017, Bechard Family Farm
You know it's not right to steal our images or words. Don't do it.
January 2017