Chicken
Turkey
Beef
Lamb
Pork

Jams
Soaps
Turkey Thawing
Around the Farm


Bechard Family Farm has been raising clean meats for families like yours for 18 years now! That's right! We've been raising these delicious birds since the year 2000. Does your family have special dietary needs? Are you trying to reclaim your health by eating a specific diet? We can help! Our clean meats and our broth bags fit right in with food systems such as Whole 30 or GAPS.
Grazing on grass that is never chemically treated, these chickens are living the life. It's like the Chicken Ritz for them! They are moved to fresh grass every day getting grass and bugs while still being protected from predators by the chicken tractor style shelters we provide for them. You can be sure that we never, ever give our animals routine antibiotics, artificial growth hormones, or genetically modified grains (GMO's). And with Bechard Family Farm, you don't have to worry about your chicken being rinsed in a bleach bath either!
The chickens we raise for meat are the double breasted broiler called "Cornish Cross". They are raised out on our fresh pastures in bottomless pens until they are about 8 weeks old. We feed them a custom mix of non-GMO feed and organic mineral supplements to insure that you get the healthiest bird possible. They get lost of fresh country air, sunshine, and green grass.
The chickens and turkeys are sold on a pre-order basis. After our normal season (May-October), chickens are also sold here at the farm
'as available' throughout the year. We have chicken all year round, but only a few times a season will they be FRESH, not frozen.
Would you like your chicken cut up into parts? If you order before one of our processing dates, we will gladly cut up your chicken into 6 parts (plus back and giblets) for only $2.50 per bird. When ordering a cut-up chicken, you will get:
2 boneless/skinless chicken breasts

2 leg quarters (thigh/drumstick combination)

2 wings

giblets which consist of heart, liver, gizzard

the chicken back, neck, and skin from breasts all for broth making
If you are looking for a healthy alternative to factory farmed foods, look no further! Come meet YOUR FARMER and see how YOUR FOOD is raised!
Click HERE to order your chickens today!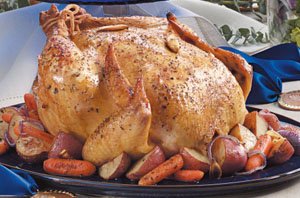 Fresh
Pick-up day at the Farm
13700 Athens Road. Conway, MO

$4.45/lb* *pre-ordered price
Please add $2.50 for each cut up chicken


Fresh
Farmers' Market of the Ozarks
from 8 AM to 1 PM

$4.45/lb* *pre-ordered price
Please add $2.50 for each cut up chicken


Thursday, April 19, 2018
Saturday, April 21, 2018
Thursday, May 17, 2018
Saturday, May 19, 2018
Thursday, June 14, 2018
Saturday, June 16, 2018
Thursday, September 13, 2018
Saturday, September 15, 2018
Thursday, October 4, 2018
Saturday, October 6, 2018
Thursday, October 25, 2018
Saturday, October 27, 2018
CHICKEN PRICES
all prices subject to change
OPTIONS:

PRICES

:

Notes:

1) CHICKEN, whole

$4.45/lb pre-ordered
April

thru late October

2) CHICKEN

,

cut-up

add $2.50 per bird
we will cut your chicken cut into 6 parts
(boneless breasts, wings, leg quarters. also backs & giblets)

3) CHICKEN BREAST

$12.95/lb

1.2-1.75# (1 package will feed 5-6 of us)

4) LEG QUARTERS

$5.25/lb

2 per package ~1.5# per pkg.

5) CHICKEN WINGS

$4.95/lb

usually 6 wings per pack

6) CHICKEN LIVER

$3.00/pkg

AS AVAILABLE - 1/2 pound packages

7) CHICKEN BROTH BAG

$6.00 per bag

includes 2 chicken backs and 4 chicken feet (about 3#)

8) CHICKEN FEET

$3.00/lb

small bags of clean chicken feet
Questions? Call 417-589-4152 or visit our Contact Us page.
© 2000-2018, Bechard Family Farm