Around the Farm
Click on any of these pictures for a larger view.
"And I will send grass in thy fields for thy cattle, that thou mayest eat and be satisfied."
Deuteronomy 11:15
While the earth remains, seedtime and harvest, cold and heat,
winter and summer, and day and night shall not cease.
Genesis 8:22

There is very little that is more refreshing than taking the time to appreciate the beauty of the nature around us. The little tree in the background is a young walnut tree. It is already producing walnuts.
In the fall, the children gather walnuts and turn them in at a walnut collection center (usually a local feed store). They have often come home with $50-$75 from turning in their walnuts.
These collection centers will then sell the walnuts to a nut company, which then processes them and packages them to sell in the little bags we all see at the grocery store. Before we lived here, we had no idea that the nuts we saw at the store might have been gathered by little children picking up in their own yards!

Our windmill has actually proved to be a great indicator of weather changes. We
have gotten to where we can tell how the weather will change by observing the direction and behavior of the windmill. It will blow one way when it is blowing in a storm and yet another when it is blowing in warm air.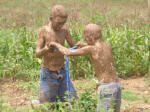 What do farm kids do for fun? They make it! The boys like to climb to the top of the windmill and parachute rocks tied to a plastic bag, they make a kite out of a worn out tarp, they climb a walnut tree, they swing at homemade piñatas, they play in mud they've made to beat the heat of 100o days, they enjoy the simple life!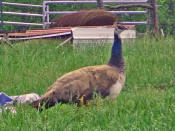 This was our peacock. Well actually, she's a peahen. A few summers ago, she just showed up! She wanders free-range around the farm. The interesting thing about pea-fowl is that they own you, you don't own them! About a year ago, she disappeared as quickly as she showed up. We enjoyed her for the 3 years she was here. Click on the picture for a larger image of this beautiful bird!
Home About Us Meats Chicken Turkey Beef Lamb Pork Jams Soaps
Recipes & Tips Around the Farm Contact Us Links Order Meats Order Jams Order Soaps
© 2000-2017, Bechard Family Farm
All photos, images, text, and wording are the exclusive property of Bechard Family Farm
and may NOT be used or reproduced without permission.